Game Brief
As in past games, two alliances of three individual teams and their robots compete on a field to score "match" point to win the game and ranking points to advance to playoff rounds. The FIRST Steamworks game has a steampunk theme and teams are required to shoot wiffle balls which represent fuel into a simulated boiler which transfers the generated steam into an "airship" in the middle of the field. Each alliance has one airship, which they pressurize with steam from the boiler and load with plastic gears from the field. At the end of the match, robots can climb and hang on team-supplied ropes attached to the airship for additional points.
View the game video here.
Play Field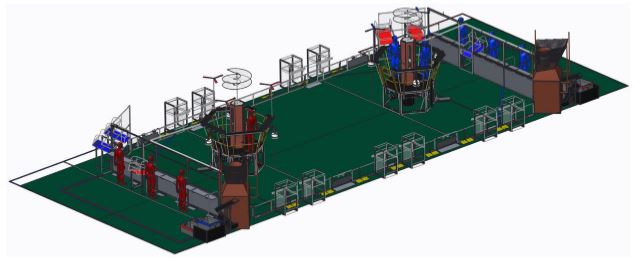 Design Elements & Awards
In 2017, our robot, Victoria, was able to consistently climb and place many gears on the airship. Our season began with a strong placement in our first competition, finishing as the second place alliance. Advancing to PNW District Championships, the team had high hopes to make a debut at World Championships. Although we were not selected for alliances, the team received the Team Spirit Award which sent us to Worlds for the first time. In the Hopper division, Reign advanced to quarterfinals and won an award. With high energy, Reign became Girl's Generation 2017 champions which set them up for the upcoming 2018 season.
Girl's Generation – Event Champion 

FRC World Championships – Team Spirit Award (Hopper/Turing Division) 

PNW District Championships – Team Spirit Award 

PNW Glacier Peak – Entrepreneurship Award 

PNW Auburn Mountainview – District Event Finalist 

PNW Auburn Mountainview – Excellence in Engineering Award